VIP stage rentals come in an infinite number of sizes, shapes and heights. Stages Plus can provide a completely custom VIP staging area for your next event that will really show off your entire production.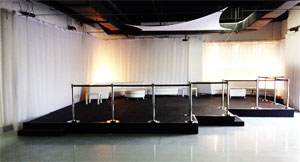 With several flooring surfaces to choose from, levels, step units and guard rails, you can be sure your next event will be a success with a very appealing design. We can provide a free 3D rendering of the design with as many revisions as you like. No event is too large.
VIP stages are used for executive meetings, nightclubs, theme parks, special events and anywhere you can imagine. If tiered levels are involved, they are also called audience risers.
Call us at 904-437-4533 for a free 3D rendering and quote.